Hello UTR members,
There are two events coming up in the next week that UTR has been supporting to make happen. We hope to see you there.
National Election Results and Impact in WCCUSD
Join the RYSE Youth Center, United Teachers of Richmond CTA/NEA, and Mindful Life Project to discuss how the national election results are affecting our students and educators in WCCUSD. We will discuss strategies to support our youth as well as needs and actions. We will have free dinner and child care. Please download the flyer 
HERE
. Also to register go to: 
https://goo.gl/forms/Z35Eu4pxsVCOKkU32

Since its a UTR sponsored PD night it can count towards your 10 hours of self-directed professional development.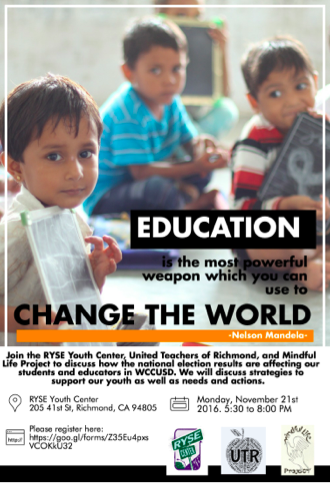 New Teacher Gathering
The new teacher gathering was created by various partners that provide support to our new members. It was created from a survey that went out to all 1st and 2nd year teachers in WCCUSD and what they said they needed in their current development. The event will take place 
this Saturday from 9:00 to 11:30 at DeJean Middle School
. We will have sessions on classroom management, lesson planning, supporting students through trauma, unit planning, and more. Breakfast and lunch will be provided. Members who attend may choose to get paid for the 2.5 hours or use them towards their self-directed professional development. Its directed towards new members but any member is welcome to attend! To download the flyer please go 
HERE
. You may also register to the event on the district PD Calendar.